A three-day summer school organised within the project "The Importance of Dialogue for Local Economic Development - The Example of Public-Private Partnership (PPP)"
Release date: 11.07.2023.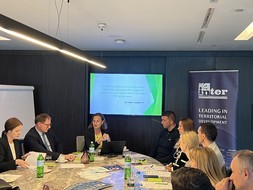 As part of the Dialogue of Change, in June 2023. in Belgrade, a three-day summer school dedicated to the improvement of dialogue between public authorities and civil society organizations (CSOs) was organised. The school was hosted by the Institute for Territorial Economic Development (InTER) and the Bečej Youth Association (BUM).
The summer school was attended by 20 representatives of the municipalities of Bečej, Opovo, Topola, Lazarevac, Bajina Bašta and Ljubovija, as well as local CSOs and the media. The lecturers were experts in the field of civil society involvement and public-private partnership: Andrijana Jovanović (PPP Commission), Edi Majstorović (Standing Conference of Towns and Municipalities), Mirjana Ćirić (Topola Municipality), Slađana Sredojević, Ana Aćimov (BUM), Bojana Selaković (National Convention on the EU), Zlata Đorđević (Transparency Serbia).
In the course of three days, the participants had the opportunity to learn about the approval procedures and the importance of PPP projects in Serbia, the possibilities of cooperation between CSOs and public authorities in these projects, innovative mechanisms for involving citizens in the decision-making process, principles of good governance, etc. During the school, the possible formalization of dialogue between representatives of the public sector and civil society was discussed. In relation to this, two models of cooperation were proposed: a cooperation agreement (between a mayor and one or more representatives of the civil sector) and the formation of a working body (dialogue forum) where local needs and opportunities for new public-private partnership projects will be discussed regularly.
The event was organized through the project "The Importance of Dialogue for Local Economic Development - The Example of PPP", supported by the Belgrade Open School (BOŠ), with financial resources from the Delegation of the European Union in Serbia.