Dialogue of Change: We continue to work on strengthening the dialogue between CSOs and public authorities
Release date: 20.06.2023.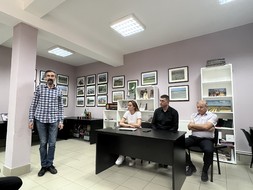 In the past period, InTER and BUM have organised workshops on the topic of including civil society organizations in dialogue with public authorities in PPP projects. Examples of good practice from the Municipality of Bečej were presented to the participants from the municipalities: Topola, Lazarevac, Bajina Bašta, Ljubovija, and Opovo.
Various approaches and innovative mechanisms for establishing proactive cooperation and effective dialogue with public authorities were presented at the workshops. The focus is on areas of particular importance for the local development of communities (public-private partnership, development of local infrastructure and other projects of public importance). Some of the conclusions of the workshops refer to the fact that local CSOs and public authorities are ready for cooperation, dialogue, exchange of ideas and knowledge in the field of PPP, but also that such projects are very important for improving the quality of service provision at the local level.
The participants were decision-makers from the local level, representatives of the public sector, civil society organizations, and the media.
The workshops were held as part of the project The Importance of Dialogue for Local Economic Development - The Example of Public-Private Partnership implemented by InTER and BUM, and financially supported by the Belgrade Open School through the "Dialogue of Change, Supporting Reforms through Cooperation between Civil Society Organizations and Public Authorities".